Did Someone Say New Office? Yes, Yes We Did!!
If you have ever visited either of our Whitlock Orthodontics locations, then you know we devote our efforts to providing a welcoming and fun environment for our patients. To us, orthodontistry is more than just straightening teeth; it's a way for us to make a difference in people's lives! We strive to increase our patients' self-confidence, enhance our patients' ability to breathe and improve their overall oral health! We are always looking for ways to improve what we do and to reach more people. A new Fort Smith location is under construction in order to help us achieve these goals! We can't wait to share our new space with you and your family, but until then, here are a few fun facts about our new office:
Myofunctional Therapy Center
We are passionate about providing our patients with holistic care, and Myofunctional Therapy is one way we are able to do that. At our new Fort Smith office, we won't just offer Myofunctional Therapy, but we will have an entire center dedicated to retraining your orofacial muscles and creating a normal resting posture of the tongue, lips and jaw! Led by a certified Myofuncitonal Therapist, our therapy center will be able to treat a variety of Myofunctional issues such as:
Crooked or misaligned teeth
Tongue thrusting
Thumb sucking
Teeth grinding
Facial and jaw pain
Speech issues
Mouth breathing
Disordered sleeping
Digestive issues
Interested in learning more about our Myofuncitonal Therapy treatment programs? Click here to read our Myofunctional Therapy And Orthodontics.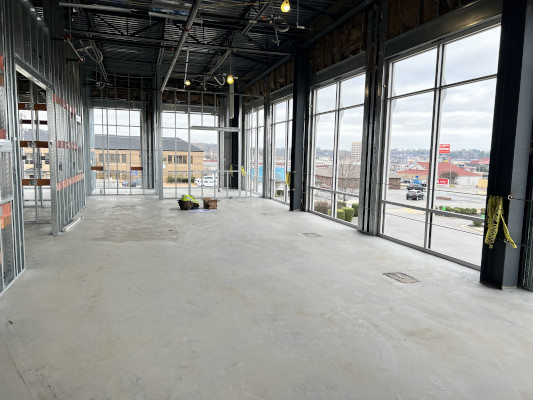 Bigger, Better and More Convenient
Our office space in Fort Smith has served us well, but when given the opportunity to design a new, contemporary office space, we just couldn't say no! We are expanding more than arches at Whitlock Orthodontics! The new Fort Smith location will be much larger and will allow us to see more patients. We are really excited about the sleek, modern design, and we think you will be, too! Our number one priority is taking care of our patients and their families, and we know a larger, more equipped office will only help us serve our ever growing Whitlock family!
We think the location is a real winner, too. The new Fort Smith office will be right off of the highway on Rogers Avenue, right next to Hobby Lobby. Which may or may not be an unintentional added bonus for all of us, and for all of you!
More Technology
You might be wondering, "Will the new office really change my orthodontic experience?" And the answer is yes! Because the new office will be much bigger, we have plenty of room for new, state of the art technology that will make the orthodontic treatment process smoother for our patients. Our new space will have 3D digital imaging, which will allow us to create the best and most efficient treatment plans for our patients! We will pair the use of our 3D digital imaging with our smile simulators so each patient can see their predicted, post-treatment smile before treatment even begins! We find that seeing your end goal is one of the best forms of motivation.
New Building Coming Soon
While our new office isn't quite a finished project yet, our construction team is working diligently and progressing through this new build as quickly as possible. From our modern design to our trailblazing technology, our goal is to exceed your expectations every step of the way! We look forward to our spacious, conveniently located office and know it will truly reflect our purpose – to provide a fun and welcoming atmosphere that makes every patient feel at home.
Make sure to check back here for more construction updates along the way. We are thrilled to share this new adventure with you and would love for you to follow along our journey to a new office.
---
Whitlock Orthodontics proudly serves the orthodontic needs of families in the Springdale and Fort Smith communities and the surrounding area. In addition to Invisalign, Dr. Whitlock also offers several braces treatment options as well as early orthodontic treatment.